Can I use dishwashing soap to wash my car?
Written on the 6 December 2021 by BumperTech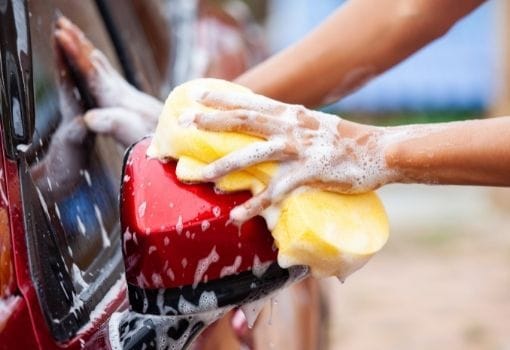 Gone are the days of the one product does all - you know the tune and the 1950's ads! We now know that not all cleaning products are made equal. So, the question is, would we use dishwashing soap to wash our car? Well, let me ask you, would you use dishwasher tablets in your laundry?
Dishwashing soap can be harsh on our cars' paintwork, and it ultimately is not the best solution, as it can potentially mare, scratch and deteriorate your paint.
The chemicals used to make dishwashing liquid are brilliant at removing wax, polymers, and silicon, which are all needed to protect your paintwork.
Specialised car washing 'shampoo' is formulated without any harsh or abrasive material, is easy to rinse off without leaving water streaks and is made for cars!
There is still the practice of using dishwashing soap on cars when you are wanting to remove old wax or paint sealants, however, this is still quite aggressive, and we would recommend looking at other alternatives first.
It is important to choose the soap that best suits what kind of wash you intend to give to your car and what kind of paintwork or wrap that you have on your vehicle.
An older car may need different products, such as clays, waxes, and polishes to further protect the paint as its original coating will be long gone.
There are plenty of great products on the market, to help you decide which are best, here are our tips for what to look for when purchasing car washing soap?
For general use, look for a pH balanced soap, which is perfect for your weekly clean, removes dirt and grime without stripping away sealant or wax applications.
Good lubrication and foaming help loosen dirt and aids to stop grime scratching your car.
Easy to rinse off and doesn't leave behind any soapy residual, which will cause streaking.
For the best handwash results, always ensure that you follow the instructions on the label of any of the products you are using and avoid strong sunlight. Washing your car in the sun will lead to the products drying too quickly and leaving marks on the paintwork – not great when you have gone to all this effort!
One of our favourite products is a waterless wash from Shine Armor - Fortify Quick Coast and Graphene Ceramic Spray! This is a great DIY product for the at-home detailing of your car. Great for cutting through the dirt and grime while also sealing and protecting the surface of your car without using bucket loads of water. These products can be easily ordered online and just follow the instructions.



If you do need some car paint repairs done, call us today to get your car looking like new!