Is it Worth Removing the Car Dents from Shopping Trolleys?
Written on the 8 March 2021 by BumperTech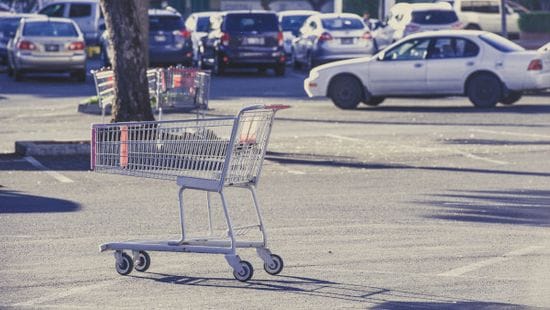 Have you ever looked at your car and wondered how that dent got there?
It's no secret that shopping carts and parking lots, in general, are a small hazard to your car, especially its paint job.
Whether it's a trolley that has gone rogue or a negligent person opening their door too wide, at some point, you might be faced with having to repair a car dent and one question we hear often is; is it worth fixing a shopping trolley dent?
Why fix a small car dent?
When we talk about small or larger dents, it generally means an indentation with no paint damage. As dent repair specialists, we know that as soon as we have to remove a panel or apply paint, the cost of the job increases.
Services like paintless dent repair mean that we use specialised equipment to treat small and larger indentations.
This technique is ideal for removing minor dents from cart collisions and hail damage and is not only much quicker to complete but also cost-effective. Most importantly, with no filling or painting required, there is minimal risk for paint matching.
While it's easy to disregard an unnoticeable dent, it's important to know that it can lead to other, much bigger problems down the line, such as:
Rust - Even the slightest crack in your paintwork can leave your vehicle vulnerable. Coupled with salty ocean air, rust can start so quickly if not seen too in its early stages.
Reducing the resale value - If you're planning on reselling your car soon, fixing the imperfections on the exterior adds value to potential buyers, regardless of how good the engine is.
Safety - While a small dent shouldn't compromise your car's integrity, several unchecked indentations and scrapes could create instabilities in key areas of your car, reducing safety.

How do I know when I should remove a dent?
Dents are not exclusively from the car park. They can also be caused by hail and general negligence, such as opening a car door too wide and hitting a pole.
Generally speaking, if your dent has paint damage or impacts the safety of your car then it's essential to get it seen too as soon as possible.
If you're unsure on whether you should remove a trolley dent or not, we offer on-site quotes and a mobile bumper repair service to provide the most convenient service possible. All you need to do is arrange a suitable time for us to check out the damage.
We operate in these areas:
We'll always give you an honest opinion but have to see the damage for ourselves to assess.
Choose a Professional
We offer a mobile service that allows you to get your car fixed on-site and at your convenience.
With decades of experience, expertise and a fully-equipped mobile unit, we also offer a 5-year warranty on all repair work we do.
Get in touch with BumperTech for a free, paintless dent removal quote.